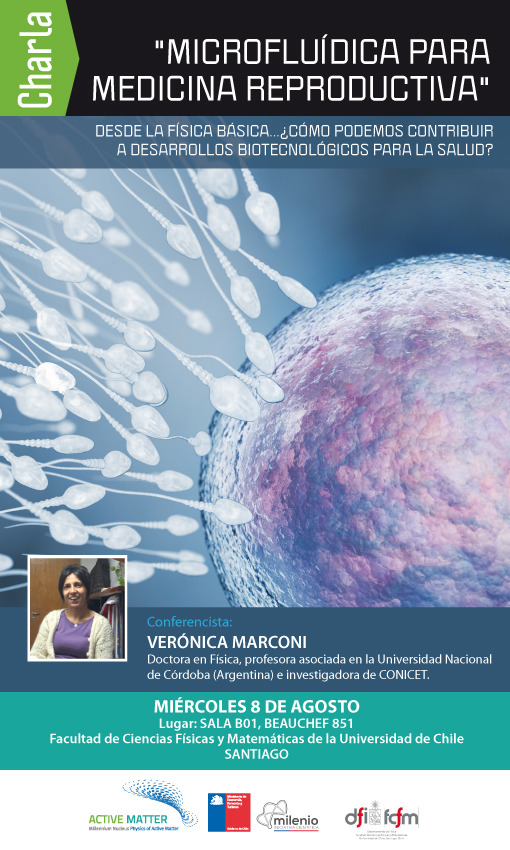 Ph.D. in physics Veronica Marconi was invited by the Millennium Nucleus Physics of Active Matter and will be presented on Wednesday, August 8th in Beauchef 851.
There are almost 50 million infertile couples in the world, according to the World Health Organization (WHO). A problem that has not changed in the last twenty years and where treatments are often complex and expensive.
The microfluidics area in physics could be part of the solutions that are sought. Her investigations in the active matter are allowing the development of very small devices, the size of only a few microns, that are already giving answers to problems of reproductive medicine and other areas of health.
Specifically, that will be the focus of the talk "Microfluidics for reproductive medicine; from basic physics, how can we contribute to biotechnological developments for health?," which will be dictated by Verónica Marconi, Physics Ph.D., and researcher at the National University of Córdoba and Conicet (Argentina), on August 8th, at Beauchef Campus of the Faculty of Physical and Mathematical Sciences of the University of Chile.
Marconi, who was invited by the Physical Millennium Nucleus of Active Matter, says that the objective of her talk is to show the young students how, from the hard sciences, from the physical and specifically from the microfluidics, they can contribute to problems in health of relevance, such as reproductive medicine, introducing new micro-technologies in health. "There are already microdevices that improve the current fertility analysis. For example, those that are done with the Makler's camera, the standard used today in every clinic. This is a research that we published in Biomicrofluidics, in 2015. There are also "Lab-on-a-chip" devices for sperm selection under micro confining, which maintain DNA integrity after micro-manipulation. There is also, available in the market, an application to analyze, from a cell phone, the quality of sperm at home. Avoiding all the problems of society and their prejudices to go to the clinic to do these analyses," Marconi explains.
Active Matter
The expert is currently carrying out multidisciplinary work with biologists, biotechnologists, and bioengineers in soft and active matters in search of the development of these and other devices, which in the last five years have contributed from microfluidics to reproductive solutions and controlled drug transport. She says: "Unthinkable analysis until quite recently, such as the viscosity of a baby's blood with only a drop from his finger, or the so-called "Point of Care", which were developed for low-cost medical analysis in places with limited resources, no adequate hygiene conditions. That is to say, portability and price, improve recent microfluidic developments."
In that sense, Ph.D. Marconi highlights the role that the study of active matter is playing in these advances, which promise unsuspected future developments. She says: "Active matter can contribute to many biotechnological developments such as the previously mentioned, and also from more efficient and more economical in vitro reproduction methods with lab-on-a-chip, to improvements in biofertilizers, pharmacology, and nursing with controlled transport of drugs using micro-nano-machines or micro-devices". She also adds: "This is not everything; the active matter is also impacting on techniques and improvements for bacterial filters (ecology-contamination), for bioremediation; since in health, new antibacterial catheters are already available in the market thanks to the study of the activity of bacteria on different nano-structured surfaces. What comes in the future, is to work more in this area, to lower the costs of these materials and isolate an entire operating room, for example. That would be a great future achievement in biotechnology," she says.
TALK: "MICROFLUIDIC FOR REPRODUCTIVE MEDICINE; FROM BASIC PHYSICS… HOW CAN WE CONTRIBUTE TO BIOTECHNOLOGICAL DEVELOPMENTS FOR HEALTH?"
LECTURER: VERONICA MARCONI, DOCTOR IN PHYSICS, ASSOCIATED PROFESSOR AT THE NATIONAL UNIVERSITY OF CÓRDOBA, ARGENTINA, AND RESEARCHER OF CONICET.
DAY: WEDNESDAY, AUGUST 8th
PLACE: ROOM B01, BEAUCHEF 851, SANTIAGO
TIME: 12:00 p.m. to 1:30 p.m.
Veronica Marconi
Ph.D. Verónica Marconi holds a degree in Physics from the Universidad Nacional del Sur, B. Blanca, Ph.D. in Physics at Institute Balseiro, Bariloche, Argentina. His doctorate thesis on Superconductive Vortex Dynamics received the Giambiagi Prize, in 2003, for its quality in numerical results and its connection with the experiments. From 2002 to 2004, she made a post-doctoral in Trieste, Italy, at the Abdus Salam International Center for Theoretical Physics (UNESCO), where she studied computational physics.