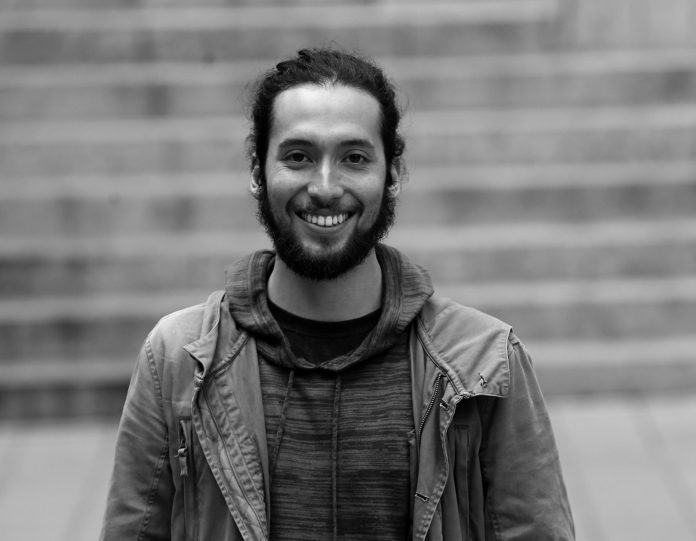 *Marcelo Guzmán, thesis student at the center, gave the exam that gave him the degree of Master of Science with a Major in Physics.
At school, Physics was never an important focus for him. His options were always mathematics, biology and even some humanistic subjects. "It was in the common engineering plan of the University of Chile that physics became important to me," says Marcelo Guzmán.
That is the reason why he chose physics. Today, at 24 years old, he is not only a Physics graduate in this house of studies but he is also co-author of three scientific publications in this area. Since 2013 he has been an assistant professor at the Faculty of Physical and Mathematical Sciences of the University of Chile and has participated in four internships and seven conferences, both Chile and abroad. And that is not all; this Monday, March 26th, he added another milestone to his emerging and well-stocked career; he obtained a Master of Science degree, with a major in Physics, thus becoming the first graduate of the Millennium Nucleus Physics of Active Matter, with his thesis: "Non-ideal rheology and spatial structures of bacterial suspensions in the semi-dilute regime."
Active matter and future
Marcelo Guzmán says he decided to focus on the active matter since it combines physics with biology; "Physics has reached such maturity that it has begun to expand into other areas, such as biophysics. Living systems are characterized by being very complex, so is very convenient for a physicist to have the ability to solve these problems," he says.
That is why he did his master thesis in this area, having as a guiding teacher the Director of the Millennium Nucleus Physics of Active Matter, Rodrigo Soto.
In his thesis, he presents a study of the rheology and spatial structures that arise in suspensions of bacteria in the semi-diluted regime. "Marcelo's thesis is fully inserted in the main topic of the Nucleus that consists in explain how a suspension of bacteria responds when the fluid in which they are swimming is moved externally. On one hand, he found that the effective viscosity of the suspension oscillates in time and can take negative values. On the other hand, he showed that bacteria form very dense bands due to the interactions between them. These results are very interesting since they show that in some regions of non-explored parameters, even in experiments (big boxes and big times) appears innovative phenomena. We hope this motivates the realization of new experiments. Marcelo is the first graduate of the Nucleus, with an excellent thesis, (he got the highest score in his exam), which makes us very happy," says his guide professor and Director of the Millennium Nucleus.
For Marcelo Guzmán, obtaining a master's degree represents the closure of "one
stage of scientific maturation, in which "I already feel that I have the bases to develop as a researcher," he says.
In fact, he has already scheduled what he will do in the coming months: he will travel to the University of Mainz, in Germany, where he was invited as a visiting researcher for three months. "After that, I'll take two months off before I started my Ph.D., which can be in England or France. I still have to decide what offer I will take," he says.
SUMMARY OF THE THESIS
This thesis presents a study of the rheology and spatial structures that arise in suspensions of bacteria in the semi-diluted regime.
Due to the microscopic size of bacteria, their density and speed of propulsion, they live in an environment characterized by a low number of Reynolds, so the force and full torque on them is zero. Hence, the disturbances in the velocity field produced by these swimmers correspond to a dipole of forces. Besides, the dipole force exerts a shear on the fluid, which can be translated into an active viscosity when an external flow is imposed. This contribution to the viscosity in the fluid may get at the point of making total viscosity to become null or even negative.
Swimmers have short and long-range interactions. In the semi-diluted regime, concentrations are still low, but high enough for short-range interactions to be relevant without long-range interactions plays a fundamental role. These interactions are mainly translated into alignment between nearby bacteria due to steric and hydrodynamic effects.
This thesis extends the kinetic theory of bacterial suspensions in the diluted regime, proposing a Boltzmann-type approach in which short-range interactions are considered through a collisional integral in the kinetic equation.